5 mins read
Permanent roaming restrictions: what do they mean for your global IoT deployment? 
Permanent roaming is widely seen as a critical enabler for global IoT deployments  
Today, restrictions for permanent roaming are a factor in some countries such as China, Brazil, Australia, and more. These restrictions come from either the regulator or the operators themselves. These restrictions are a critical issue for connected businesses and  could impact the quality of a multi-country deployment of IoT devices – there could be high data costs, poor quality of connectivity, management complexity, or devices could even be removed or barred from local networks. 
To overcome these issues, it is first essential to understand what the global permanent roaming landscape looks like. 
Evolution of permanent roaming  
Historically, roaming was a rewarding business for mobile operators, who could ensure that business or leisure travelers could stay seamlessly connected with their own number. These travelers typically did not stay in a different market for more than a couple of weeks.  
However, in recent years we have seen a rapid increase in permanent roaming situations, driven by the explosion of IoT adoption around the world. In this situation, a device, most commonly part of an IoT deployment, remains connected to a network outside of its home network over an extended period.  
 Huge global IoT deployments often rely on permanent roaming across the world. In such cases, the product lifecycle is itself global in nature. Devices are typically manufactured in one location and then can be shipped to any other market around the world for activation and use.  
Since it is impossible to predict at the point of manufacture where the product will be used, global IoT connectivity needs to be embedded into the product at the factory. When switched on, the device automatically connects to the local network as a roamer. 
 Most IoT devices remain within one network and have a long life span: for example, smart meters or surveillance cameras, which could have a life span of decades. Faced with a lack of visibility on how long permanent roaming devices will remain within their networks and what resources they consume, operators and regulators in many countries around the world are becoming increasingly negative towards inbound permanent roaming by IoT devices.  
Permanent roaming does not have a uniform environment around the world 

Unlike legacy subscriber roaming, permanent roaming has a heterogenous environment across the world: it can range from hard restrictions to no restrictions. In markets like Brazil, Turkey, and Nigeria, for example, it is banned by the regulator. In Australia, Canada, and the USA, there are no regulatory restrictions, but local MNOs are hostile to the practice and one can expect to see harder restrictions come into force soon. China, Egypt, India, Saudi Arabia, Singapore, and the UAE prohibit large deployments, while in markets like the EU, there are no restrictions.  
The graphic below provides an overview of some of the restrictions in place as at the date of publication of this blog.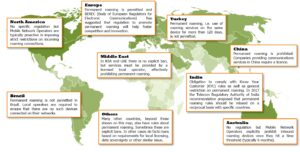 Source: Transforma Insights Permanent roaming, by Matt Hatton, 26 May 2021
When permanent roaming is not possible, enterprises need to establish local connections with MNOs to keep their devices connected. It is also important to ensure that connections are compliant with the laws of the market and the rules of the host network operators. 
However, this poses a huge challenge to enterprises with IoT deployments at scale. For a global manufacturer of consumer products – for example: washing machines, or bicycles – the fleet of connected devices can number in the hundreds of thousands. Seamless, automated connectivity requiring no human intervention is essential, or else the deployment becomes too complex to manage.  
Establishing technical and commercial relationships with multiple MNOs, and managing ever-changing restrictions on permanent roaming, is not an option for enterprises, who typically have little or no telecommunication background and experience. Therefore, it can significantly slow down time-to-market and can have a negative impact on margins.  
Outsourcing could help overcome the logistical issues of negotiating data rates, maintaining the technical aspects and other facets, that need significant investment in expertise and equipment. Leveraging the global connectivity of an already established global roaming enabler can ensure that your business has reliable and efficient connectivity solutions tailored to your specific needs. 
A scalable solution to manage permanent roaming restrictions across the world
Enterprises with global IoT deployments typically take advantage of the multi-IMSI technology to connect globally. 
What is an eSIM and how does it work?
An embedded SIM, or eSIM, can access the connected infrastructure and receive a new carrier profile in different markets. Once the device is switched on, the most suitable local profile can be downloaded onto the device. In theory, the whole process can be carried out remotely and without any physical intervention with the device.  
However, in reality, this process is still cumbersome in a multi-market deployment. The enterprise needs to enter into contracts with multiple local eSIM connectivity providers, managing issues such as different pricing, processes for issues escalation, connectivity management platforms, different portals, different APIs to integrate, and more. During the device lifecycle, moreover, different SIM profiles need to be changed.  

Instead, enterprises needing to connect in multiple territories can opt for a multi-IMSI approach, which can set up the device with a single profile but multiple IMSI. The unique multi-IMSI SIM profile incorporates an intelligent applet, which automatically selects the most appropriate IMSI in each country. The great benefit is then when we have within the multiple IMSI applet, some IMSIs provided by local MNOs, called "local sponsors": the SIM is considered as local, since it uses a local IMSI, hence complies with permanent roaming regulation, while at the same time, you keep the simplicity of having same portal, same API, same connectivity management platform, etc… as for any other destinations offered by the global multi IMSI SIM.
In other words, your SIM solves the permanent roaming restrictions everywhere and you keep all the simplicity and capabilities of the global SIM!
These multi-IMSI SIM profiles are true game-changer when it comes to overcoming permanent roaming restrictions.  
BICS SIM for Things is uniquely positioned to help global IoT companies in solving permanent roaming challenges:
Multi-IMSI technology, combined with local IMSI, means one single profile embedded into the SIM, optimized to deliver permanent roaming everywhere
Extensive partnerships with mobile operators globally
Multi-IMSI applet that works both with physical SIMs and eSIMs 
Takeaways
Global enterprises with large-scale IoT deployments in multiple markets can no longer depend on permanent roaming strategies to keep their devices connected wherever they may be. Many large global economies have stringent restrictions in place that prohibit or limit inbound permanent M2M roaming.  
However, establishing individual relationships with local operators and replacing SIM cards on a market-by-market basis is prohibitively expensive and can critically damage the IoT business model. 
With BICS SIM for Things, enterprises can easily overcome permanent roaming restrictions and benefit from the flexibility of multi-IMSI SIMs/SIMs and BICS' global multinetwork coverage to optimize global deployments.  
Get in touch today to find out more about BICS' global IoT solutions.